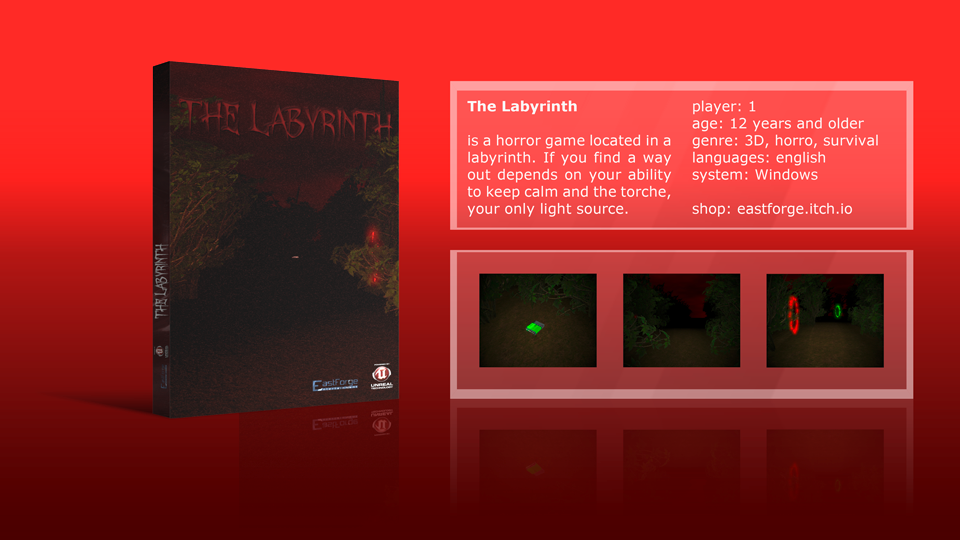 The Labyrinth
A downloadable game for Windows
The Labyrinth
It's a horror game located in a labyrinth. If you can survive and find a way out depends on your ability to keep calm and enough energy for your torch, your only light source.
You wake up somewhere in midst of a laybrinth in the darkest night you can imagine. Surrounded by an impenetrable hedge you realise, you're traped in the deepness of your own soul. The torch won't probably work until you find the way out of this damn scary place.
[CRACKLE] Your biggest fear chases you!
Features
he is allways behind you
inspired by Slender
random events
checkpoints
a torch (just one)
scary music and sound
32 bit version
pay what you want
Technical Requirements
CPU: 2 GHz and more
RAM: 512 MB and more
Video: 1024 x 768, 32 bit, 256 MB and more
OS: Windows Vista 32 bit and higher
DirectX®: Version 9 and higher
OpenGL™: Version 2 and higher
HDD: 600 MB free disk space and more
About
developer: Eastforge Entertainment
age: 16 years and older
release: 31.10.2012 (Halloween)
genre: 3D, horror, survival, labyrinth
language: english
system: Windows
Follow
https://www.facebook.com/eastforge/
https://twitter.com/eastforge
https://eastforge.tumblr.com/
https://www.youtube.com/user/eastforge
Download
Click download now to get access to the following files: